This year I had the privilege to travel to London and attend the FullStack London Conference. FullStack London is a conference on Javascript, NodeJS, React, IoT and much more. I was sponsored by 10up (the company I work for). 10up has a really great initiative that sets aside a budget for all of its employee for self-professional development. Some uses for taking courses, other uses for attending conferences.
The main reason that led me to choose this conference was due to my personal goals of improving my Javascript related skills. Javascript is being used more and more, not only in the browser but everywhere (desktop apps, native mobile apps, games, VR and etc). It's hard for a developer to keep up with the fast pace of javascript and a conference like this one is great to get a sense and a learn about the latest technologies.
Without further ado, let's get to the review.
The Venue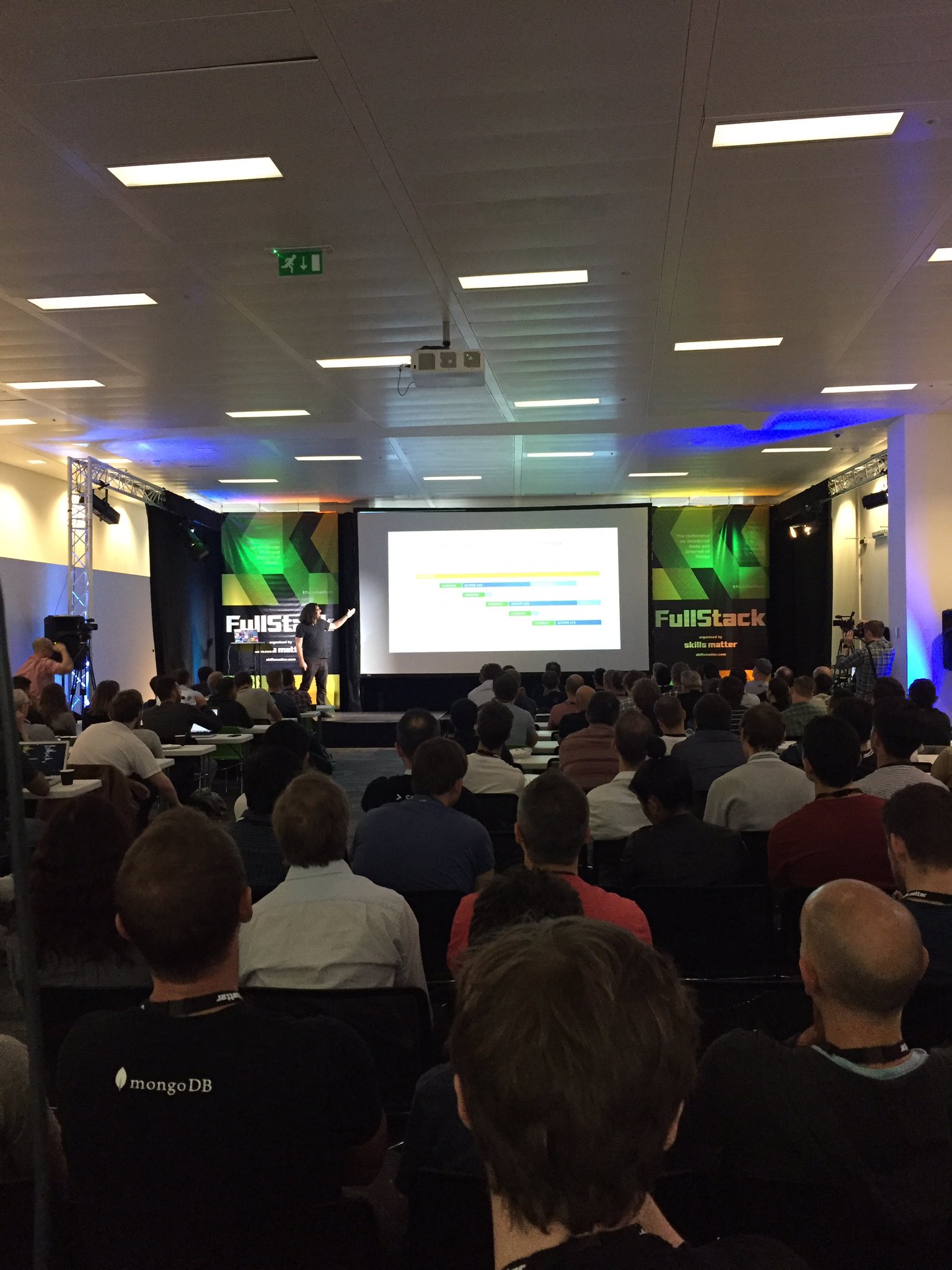 FullStack London took place on July 12 through July 14 at CodeNode. I have nothing to complain about the venue, it's big and comfortable, just in the heart of London. I'm sure that everyone had a pleasant experience during all of the three days of the conference. The rooms were big and only on a few occasions, I saw people standing (myself included). There were a few sponsors booths at the lower ground including a drone VR simulator and later on an indoor drone racing competition. There was even a table tennis table there, which was later removed to accommodate the party of the first day. Unfortunately, I didn't manage to play a match in time, maybe next year.
The Schedule
The conference's schedule was full of great speakers and talks including important people from the Javascript community. It was really hard for me to choose which talks to attend. One thing that seemed to have worked quite well was the voting system. Each day before talks begin anyone was able to vote for their preferred talks, those votes would then be used to allocate rooms in an effort to avoid big rooms with few people and small rooms with a lot of people. With a few exceptions (after all, statistics can't be right all the time) it worked pretty well.
There were also greats workshops, while I can't speak for all of them, the ones I saw (GraphQL and WebGL) were great, we were able to build interesting things in less than 2 hours which by themselves made the conference worth it.
I should also note that all talks were recorded and are available online for those who bought a ticket.
The Food
I should say that I did not quite like England's cuisine (at least, based on my experience so far). But I can say that there were options for veggies and for people with dietary restrictions, which is not something you see in every conference. In addition to that, coffee was available during the whole conference with a few snacks.
The talks
The most important part of any conference alongside with networking are the talks. I enjoyed most of the talks I attended and I plan to post more about their topics in the future as I practice more with what I learned. Overall the talks were good, there was even a comedy quiz show with some of the speakers called "Have I got nodes for you?". I won't cover all talks I saw here, but, I want to highlight my favorites talks of the conference.
Opening Keynote by Douglas Crockford – Numbers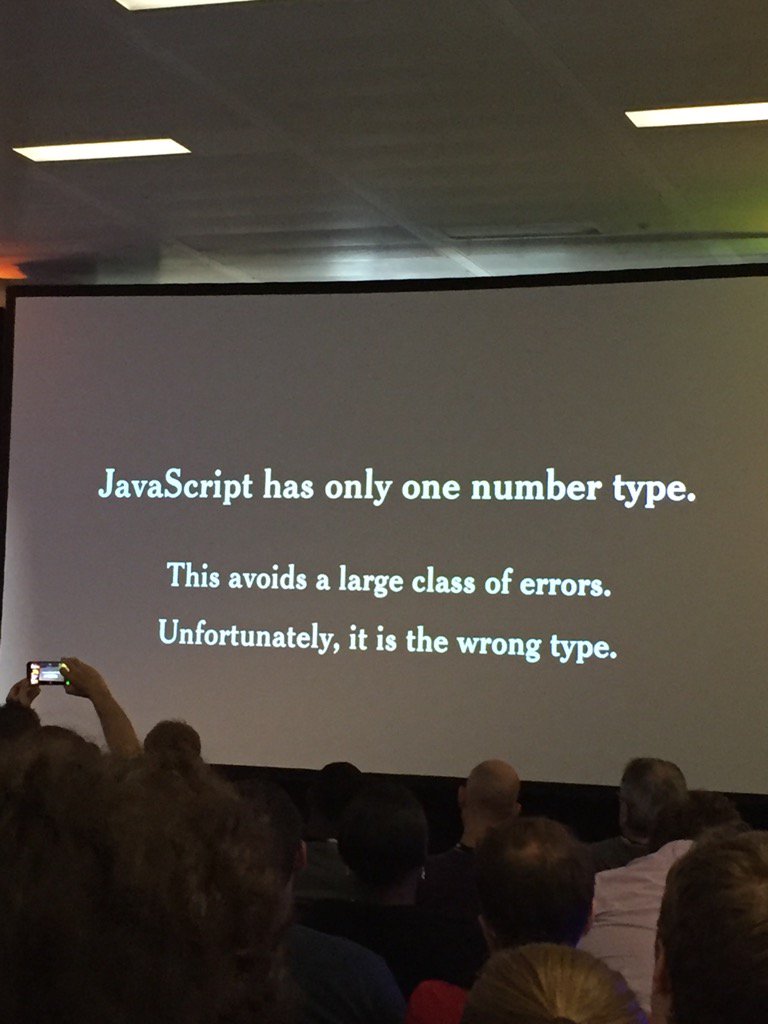 In this keynote, Crockford showed the numbers representation problem and why the way javascript treats float-pointing numbers is not perfect and can lead to precision errors which can be devastating as the error can propagate depending on your application and considerably affect the result of your computation. He then presented his work on the Dec64 format which aims to solve this problem.
I've been a personal victim of this number representation problem but only after this talk, I realized that and why.  For the past few weeks, I've been working on a Javascript implementation of the Graph Cut algorithm for image segmentation: http://nicholasandre.com.br/jsgraphcut/ (still a work in progress, more about this will be posted later on), the implementation deals with a lot of float arithmetics computation and a single precision error in one computation wouldn't be that bad but when it happens on every single computation it can really affect the final result negatively.
Math, Machine Learning, and JavaScript — Athan Reines
This talk was focused on showing how Javascript can be used for scientific computation, I was personally interested on this talk since I'm doing a master in Computer Science and I've been using Javascript for some of my implementations. Reines showed the js-stdlib as a replacement of the standard Math library but with many more features. It is focused on numeric computing and its implementation avoids all the pitfalls of the javascript number format representation.
Javascript Browser Bits — Ben Foxall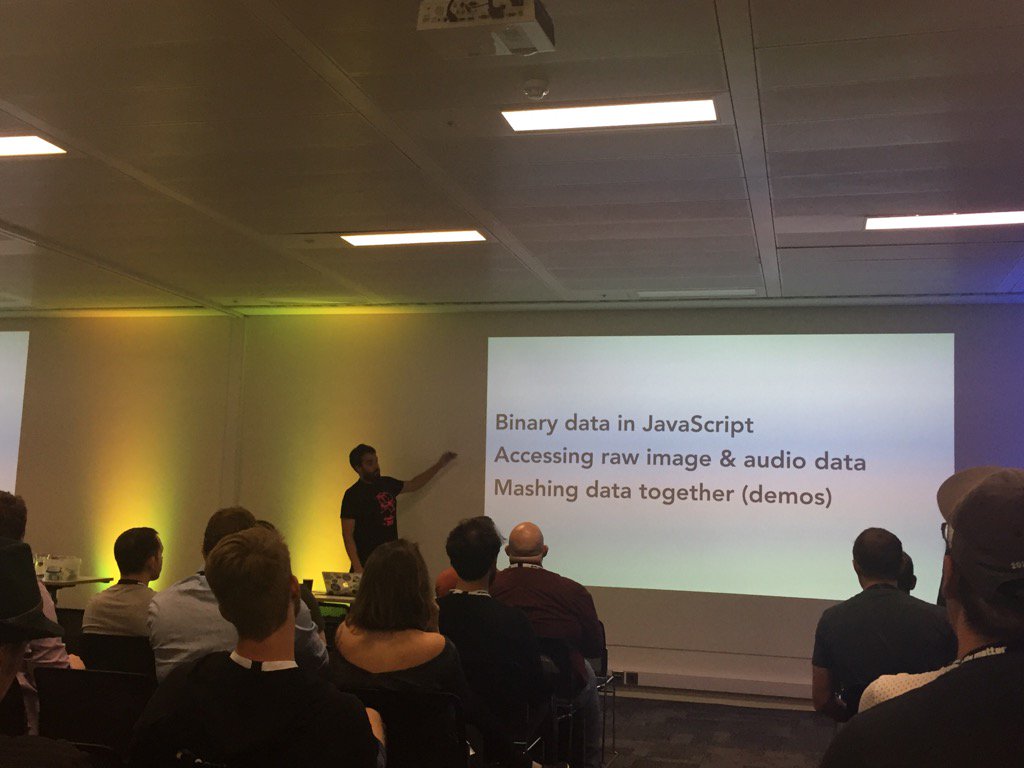 This was another talk I was personally interested. In this talk, Ben showed at the lowest level how to deal with images, video, and audio with pure Javascript. It was an interesting talk to watch with a lot of cool examples. I already had a good understanding of most of what was covered in the talk but even though I learned a lot in this one.
From Zero to Forex Trading bot Hero — Daniele Polencic
This one was really interesting, Daniele showed how he built a trading bot for the forex market using Javascript. The underlying infrastructure of the bot was quite complex but it was one of the most interesting parts of the talks. Unfortunately, the code is not open sourced and the author doesn't seem to be willing to release it, but even though this one was a great talk.
Workshop: Practical WebGL — Martin Splitt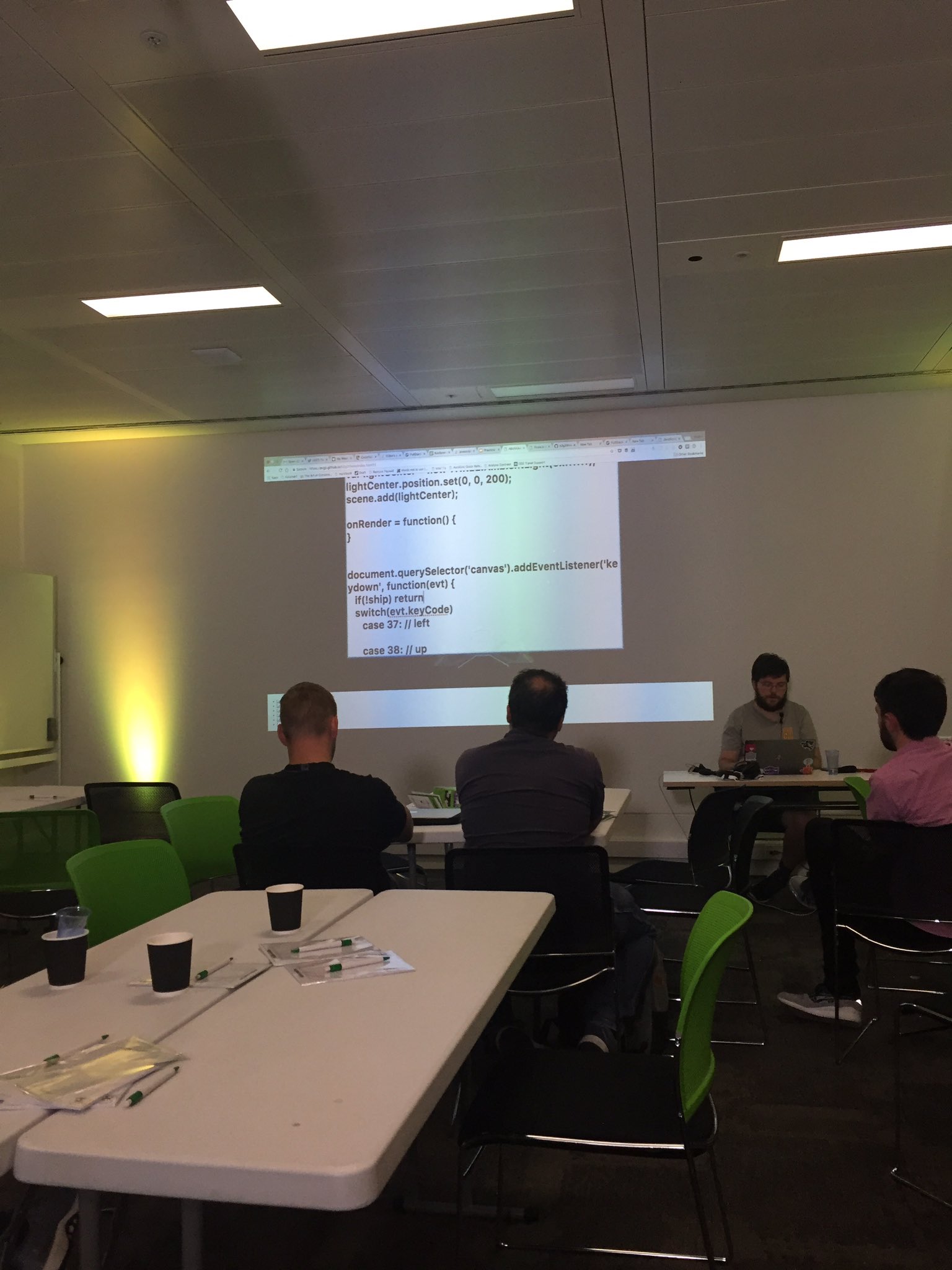 This workshop was an easy choice for me, as this relates to my area of interest in Computers Science I decided to attend it and see how I could apply my previous OpenGL knowledge on the Web and I was impressed how easy it was to write WebGL code using the Three.js library. Martin was well prepared and demonstrated that he deeply understands WebGL. It was a super exciting workshop.
Workshop: Diving into GraphQL, React & Apollo — Nikolas Burk
During this workshop, we built a real time chat application using React, Apollo and Graphcool (a GraphQL server service). I had no previous practical knowledge of GraphQL and I was amazed at how I was able to absorb the main concepts of GraphQL and how to put in practice by writing some code. This is a topic that I'll dig deeper as it is something we might start using at 10up. We've already faced some of the challenges that GraphQL solves and I see a good potential on it.
The cons
Nothing is perfect. Although this does not relate to the quality of the conference it is something that's worth pointing out. The conference is not cheap, I 10up paid over 400 pounds for an early-bird ticket (full price was over 700 pounds if I'm not mistaken and next year conference full price is over 1000 pounds).  London is not a cheap city either, so prepare yourself if you're interested in attending the conference next year or find a company that can support you (btw, 10up is always hiring).  Luckily, there is a huge discount for those booking early, see next's year conference page for more info.
Conclusion
FullStack London was the best Javascript conference I have attended so far, I've been to other JS conferences like the huge BrazilJS and some local FrontEnd meetups and while they were great, FullStack London was by far the best one. I do recommend anyone interested in Javascript to attend the conference.